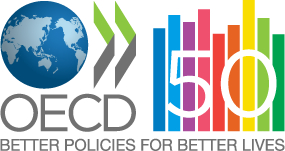 The work of the Organisation for Economic Co-operation and Development on internet governance is rooted in the mission of OECD to promote policies that will improve the economic and social well-being of people around the world.
The organisation has developed key indicators on information and communication technologies, which are updated annually, to provide a knowledge-base for digital governance policies. The fifteen indicators mostly cover availability, accessibility, affordability and usage of landline, mobile, broadband and internet connections.
The OECD has published a number of Digital Economy Papers, among them
The OECD has developed a privacy statement generator, building on the OECD guidelines on the protection of privacy. They regularly publish policy guidelines on internet economy issues, reviews of good governance in information society, and reports — including "Reducing Systemic Cybersecurity Risks" (January 2011, pdf), a report outlining what types of cyberattacks and large scale disruptions hold potential for causing a global shock.
The OECD's work on internet governance is coordinated by the Department of Information and Communications Technologies.